Jumping Branch Farm (JBF), is located in Aiken, South Carolina right across the border of Augusta, Georgia (where the Masters golf tournament takes place). Aiken offers the horse enthusiast the ultimate horse country that is best known for its flat racing, steeplechases, fox hunts, show jumping, eventing, and polo. To top it off, there is 1000 acres of city owned property right in the center of town for hacking, hunting, and more. Whether you are a serious competitor or a horse enthusiast, Aiken is the place for you!
JBF is 100+ acres, surrounded by trees, trails, 2 ponds, and large turnout fields. Best known for its Beginner Novice through Preliminary cross country courses that are inviting, yet challenging to both horse and rider at the various levels. In the middle of the property is a galloping track which is great for checking your galloping speeds; no more getting caught speeding in competitions! There is also a full stadium course, dressage rings, and trails for hacking and conditioning.
JBF hosts several schooling shows including dressage and combined tests, horse trials and derbies. The flowing cross country courses, designed by Julie a USEA licensed course designer, are praised by competitors and volunteers alike! Many people enter the JBF shows as a move up event or a great first event of the season.
JBF also offers boarding, training, lessons, pony club, working student programs, horses for sale, jump design/building, and course design. If you are interested in any aspect of JBF please feel free to call or email Julie for more info.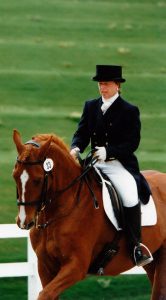 Julie draws from a wealth of classic education in all eventing disciplines. She started off with Purdue University's equestrian team and hunting with Romwell Fox Hounds in Indiana. After graduation, Salley Swift's lessons in "Centered Riding" vastly increased Julie's skills and abilities as a rider and instructor. She has since trained with many International riders including, Bruce Davidson, Sue Blinks, Ian Roberts and Sarah Cousins.
Having competed successfully at Preliminary (including 3-Days) and Intermediate Horse Trials, Julie now competes in dressage through Intermediare I, while continuing to develop young event prospects through Prelim.
Julie is very active in the local and national equine community. She is a local recognized judge, and a USEA/USEF licensed course designer. In addition to JBF's open and galloping courses, in 2002 Julie designed the inaugural courses for Hill N' Hound Farm in Kane, Illinois (the "Area Best Course" award winner that year). Several years ago, she designed the inaugural courses for Lara Anderson's Full Gallop Farm (Aiken, SC). She has also redesigned Canterbury Farm's (Newberry, FL) preliminary course, and redesigned Queeny Parks BN – Prelim course (St. Louis, MO).
JulieSince retiring from running her recongnized horse trials she now focuses on running many schooling horse trials, combined tests, and derbies throughout the year.
Julie is a retired member of the local, state and national Farm Bureau Equine Commodity Committee. She was also instrumental in creating the South Carolina Farm Bureau's first Equine Committee, and implementing South Carolina's first Equine Census in 25 years, with a goal of benefiting SC's entire equine community through improved education and legislation. (The Farm Bureau is a non-profit agricultural lobbying organization.)
Julie's primary focus is now on teaching her many students that range from the tadpole to preliminary level. Her teaching motto is safe riding while having fun.
If you have any questions, please feel free to contact Julie today.
Jumping Branch Farm 179 Fox Pond Road Aiken, SC 29803